To submit an AGCO licence application, regulatory submission or other change, you will need to log in to the iAGCO online portal, make a selection from the Main Menu, enter your information and answer the required questions. When completing a submission, you may encounter a screen in iAGCO called Documents to Attach.
Document Types
Depending on the type of submission, you may have to upload documents before you can complete your submission. Any mandatory documents are labelled as Required Document (see #1 below).
For some document types, you must use the sample form provided (see #2 below). To use the sample, select "Open" to download a fillable PDF (see # 3 below) that you can complete and sign electronically or print, then complete by hand and scan or take a photo of it.
TIP: You can prepare for your submission by downloading and completing the forms in advance. To find the form(s) you need, go to the Helpful Resources section of this guide.
You also have the option to upload any supplementary document(s) that would help the AGCO complete its review of your application (see #4 below).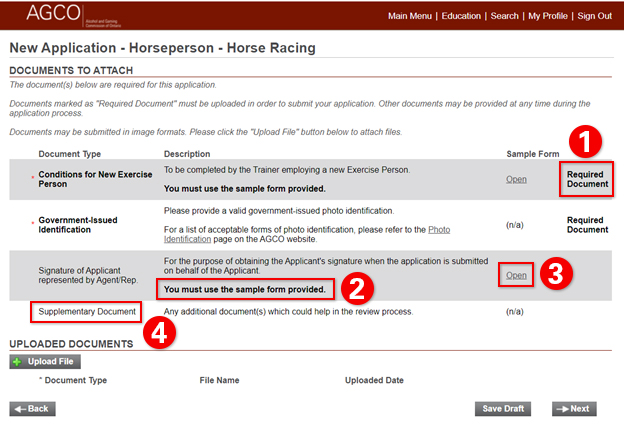 How to Upload Documents
Once you have either (a) completed the form provided or (b) collected the document(s) you need on your device, you can proceed to upload them to iAGCO.
TIP: iAGCO permits most commonly used file types to be uploaded (bmp, csv, doc, docx, gif, jpeg, jpg, msg, pdf, png, xls, xlsx). Each document can be up to 20 MB in size. Note that documents should be complete and legible to minimize delays in the AGCO's review of your submission.
Under Uploaded Documents, click +Upload File.
Click Browse to search your device for the file you wish to upload (i.e. your completed form or saved document).
TIP: Be sure to first save your document(s) somewhere on your device, such as a documents folder or on your desktop.
Click Upload. After a moment, your document will appear in the Uploaded Documents section.
Next, you must identify the document's type by choosing from the list. Then click Next.

Repeat this process for each document you wish to upload. You can also remove any document uploaded in error.
TIP: If you need time to prepare the documents required, you can click Save Draft to save the information without submitting it. You can then return to it by selecting it under My Drafts on the Main Menu.
If Documents Need to Be Added or Changed After Submitting
Once your application is submitted, you can still add documents to your submission by going to the Main Menu and selecting Provide Additional Information under My Applications Under Review.
If, during the AGCO's review, it is determined that documents must be added or changed, you will receive an email detailing the request. You will then log into your iAGCO account, and under the Main Menu you will see Additional Information Requested.
Click the File # then follow the prompts to submit the information or document requested.
To avoid unnecessary delays, please ensure that your documents are complete and legible.
For More Information, go to How to Get More Help in this guide.