This Business Plan outlines the agency's accomplishments over the past year, including the rapid response to COVID-19 and its impacts on the sectors regulated by the Alcohol and Gaming Commission of Ontario (AGCO). The Business Plan also sets out the path forward for 2021-22 to 2023-24, which promises to be another exciting chapter in the AGCO's ongoing history.
The AGCO is Ontario's regulator for the sale and service of alcohol,  lottery and gaming,  horse racing, retail cannabis sector, and soon, an expanded provincial online gaming market (iGaming), pending the passage of recently introduced legislation. The AGCO has long strived to be at the forefront of modern industry regulation and, over this past year, we were well positioned to regulate effectively and respond to industry needs during the rapidly evolving COVID-19 pandemic.
The past year saw significant changes in the AGCO's senior leadership team, as the Registrar and CEO, Jean Major, retired. The AGCO was pleased to welcome the new Registrar and CEO, Tom Mungham, former AGCO Chief Operating Officer.  In addition to the CEO, the AGCO also welcomed five other new members to its executive team.
The Ontario Government has communicated its commitment to supporting Ontarians and businesses through the COVID-19 pandemic and ongoing economic recovery. This support comes, in part, through the reduction of administrative and regulatory burden on businesses.  These goals are top of mind as the AGCO continues its work with the province for supporting economic recovery and developing and regulating the expanded iGaming market.
The AGCO's continued transition to a risk-based, outcomes-based and compliance-focused approach to regulation has provided greater flexibility for regulated entities in terms of how they achieve regulatory compliance. At the same time, these approaches have also enabled the AGCO to more effectively manage risks, while prioritizing resources to ensure its approach to regulation is fair and responsive to sector needs, and protects the public interest.
The AGCO is committed to strategic engagement as a key aspect of how it does business.  Enhanced stakeholder awareness through engagement activities regarding major corporate initiatives has taken place in order to understand stakeholder perspectives as an important part of policy development. This approach has aided the AGCO in its support of significant government objectives, including the implementation of the new licensing regime for retail cannabis. 
The AGCO's Strategic Plan sets out the following three strategic goals: Modern Regulator, Service Excellence and People First. These goals are aligned with and support the achievement of the AGCO's mandate, and key government objectives for enhanced accountability and efficiency in the delivery of public services; evidence-based decision making and policy development; reducing the administrative burden on businesses; and increasing consumer choice.
As the AGCO enters the second year of its five-year Strategic Plan, the organization is focussed on its strategic goals, while continuing to evolve its regulatory and business functions in support of government objectives. The AGCO continues to strive to successfully meet its expanding regulatory mandate within Ontario's complex alcohol, lottery and gaming, horse racing, and retail cannabis sectors.
During the last year, the AGCO accomplished a number of key achievements in support of its strategic goals and business plan commitments, and introduced a number of measures in response to the COVID-19 pandemic, including the following selected highlights:
Modern Regulator
The

AGCO

's compliance functions were reorganized into one Compliance Services Team across all the sectors the

AGCO

regulates with the common goal of improving compliance across all lines of business. It is more flexible, agile and responsive than ever, and well-positioned to continue proactively evolving over an ever-changing regulatory landscape.
In a continued effort to modernize the regulation of horse racing in Ontario, the

AGCO

implemented a number of initiatives to promote human and equine health and safety. This included an expansion of the Concussion Protocol more broadly for jockeys and exercise riders at all Thoroughbred and Quarter Horse racetracks as well as revised urging provisions, to limit urging in Thoroughbred and Quarter Horse racing. Additionally, the

AGCO

undertook a series of consultation sessions with key industry stakeholders on several rule changes that were brought forward by the industry.
Service Excellence
The continued modernization of the

AGCO

service delivery model through the phased implementation of the iAGCO web-based portal included the implementation of its final phase in 2020.

Phase 4A launched in March 2020 and included services for horse racing.
Phase 4B launched in October 2020 and included services for charitable gaming and electronic gaming equipment.
Customers can now conduct all AGCO-related transactions online, anytime from anywhere.
As a result of the Service Experience 2020 initiative, the

AGCO

became one of the first government agencies to offer Web Chat services to customers. As well, the agency has a new handling policy and function for complaints and inquiries, allowing for greater oversight and consistency in practices across all departments and improved resolution for customers.
Inquiries and Complaint Service Channel Preference Sept. 1, 2019 – Mar. 31, 2020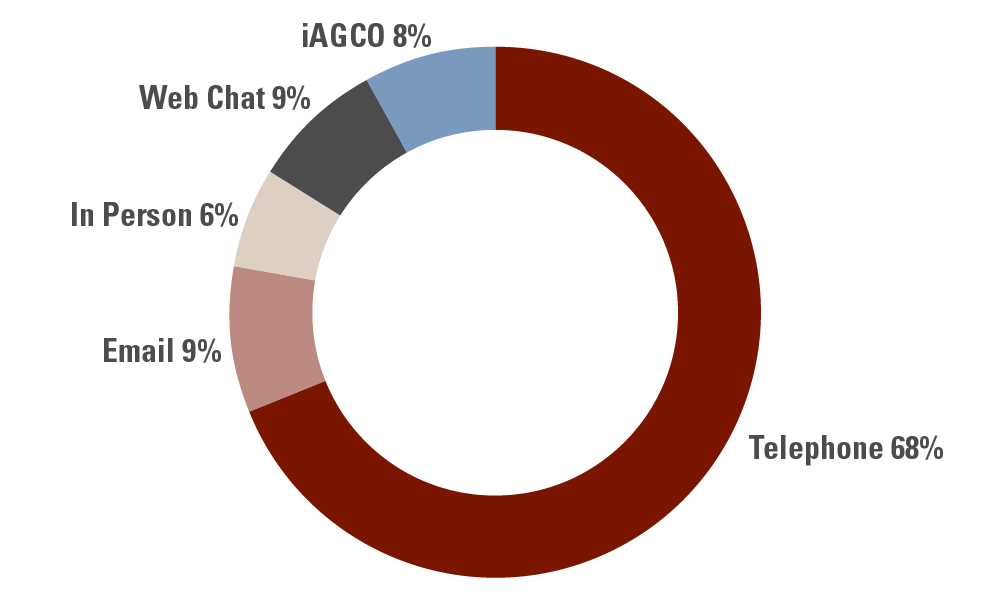 Text version of the Inquiries and Complaint Service Channel Preference Sept. 1, 2019 – Mar. 31, 2020
The

AGCO

launched a second call for proposals under the Education, Training and Awareness (

ETA

) Fund. This is an opportunity for industry stakeholders to apply for funding to deliver new education, training and awareness programs that are designed to improve compliance with provincial laws and/or enhance awareness of issues of public interest within the sectors the

AGCO

regulates. For the 2020-21 funding cycle, the total amount of funds available to support new

ETA

programs and initiatives is $350,000, with a maximum amount of $125,000 for any one program or initiative and a goal of funding projects of varied sizes.
In January 2020 the AGCO's ETA team launched an eLearning course for private event alcohol Special Occasion Permit (SOP) holders to educate them about their legal responsibilities for hosting these types of events. Since the launch, over 550 participants have successfully completed the module and feedback has been extremely positive. The project was made possible through Order of Monetary Penalties, which provide funding for education, training and awareness projects.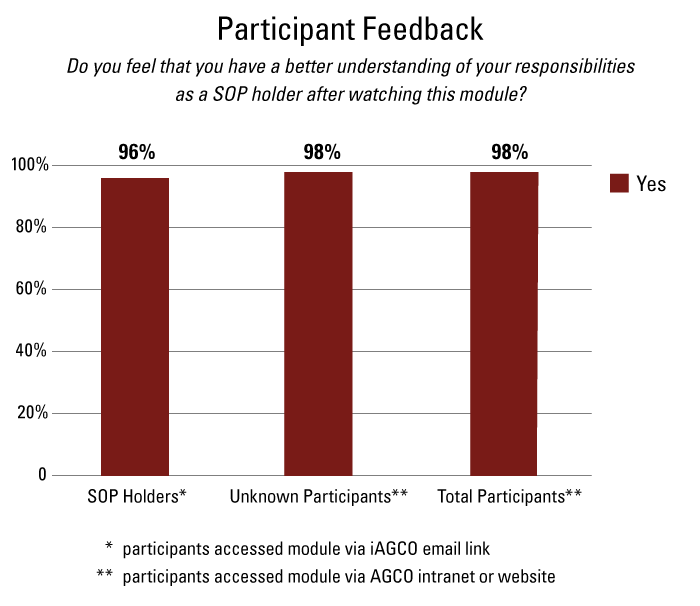 Private Event Special Occasion Modules statistics as of March 6, 2020.
Text version of the Participant Feedback
People First     
In response to health and wellness needs, the

AGCO

launched AccessArise, a subcommittee under the WellEngaged Committee in July 2020. This subcommittee deals with issues related to mental health, disabilities, and accommodations with the intent to raise awareness and provide tools and resources to

AGCO

staff.
To continue strengthening the

AGCO

's commitment to diversity, inclusion, accessibility, and anti-Black systemic racism, the

AGCO

's

CEO

signed the BlackNorth Initiative Anti-Black Racism Pledge in September 2020. Collectively

AGCO

's business leaders commit to helping move Canada toward ending anti-Black systemic racism and creating opportunities for underrepresented groups by ensuring inclusion is core to the workplace culture and that the

AGCO

's workforce is representative of the communities it serves.
A new employer-funded Volunteer Time Off (

VTO

) program was introduced in July 2020 as part of the

AGCO

's Corporate Social Responsibility program. Beginning July 1, eligible employees can use one

VTO

day to support a charitable cause. This program is another step in the

AGCO

's journey to enhance its commitment to social responsibility as an organization and make a positive impact and difference in the local community.
Results from

COVID

-19 Employee Engagement and Needs survey conducted April 2020.
As a part of an effort to continuously improve the employee experience, the Change Management Office implemented a versatile new Employee Experience platform. The platform enabled the

AGCO

to modernize employee input and feedback, adopt an active listening model and be more nimble, agile and transparent in obtaining employee feedback. Over 29 surveys were carried out across the

AGCO

, which revealed actionable insights into the effectiveness of the

AGCO

's communication plans, opportunities to offer support, and employees' feelings of health and wellbeing during the pandemic.
In support of the

AGCO

's strategic framework for analytics, the Regulatory Intelligence and Innovation Team launched The Analytics Academy in February 2020. This program is a multi-faceted educational program that offers

AGCO

employees the opportunity to gain further insight and understanding about data and analytics. This program aims to demonstrate the value of analytics by increasing data access and data literacy as well as encouraging staff to use data for business insights by embedding analytics into our decision-making and procedures.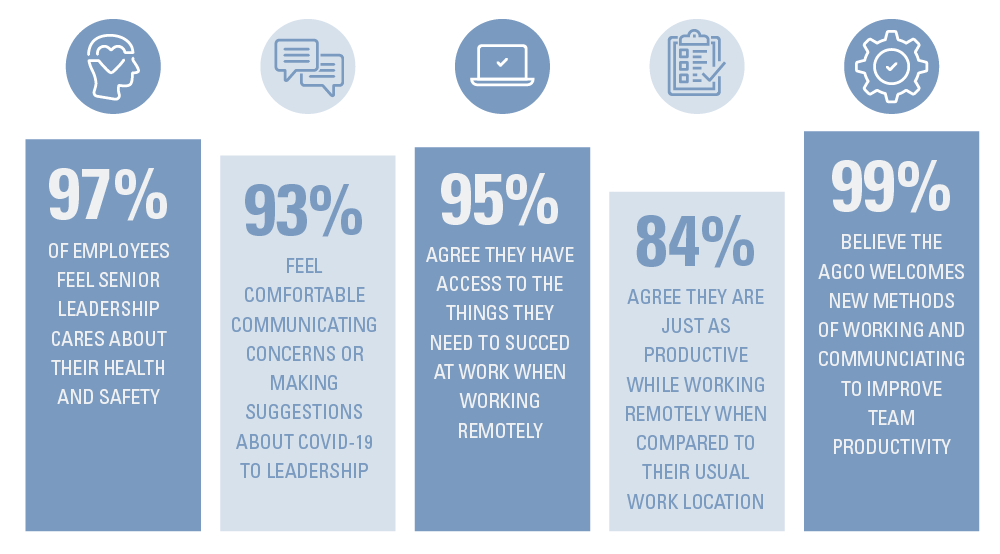 Text Version of the Results from COVID-19 Employee Engagement and Needs survey conducted April 2020.
AGCO

's

COVID

-19 Response
In response to the

COVID

-19 pandemic, the

AGCO

introduced numerous measures to ease the burden on businesses, increase business flexibility and consumer choice and support the province in its efforts to contain the pandemic. These include:
The majority of

AGCO

licences, authorizations and registrations were automatically extended for 12 months with no additional action or costs necessary on the part of the licensee or registrant.
Liquor
Extended permissible hours of alcohol sales in grocery and other retail stores to begin at 7am to provide greater flexibility for stores to meet public health objectives.
Worked with government to enable liquor sales licensees to offer the sale of alcohol (e.g. bottles of wine or spirits, etc.) along with takeout food and/or as part of a food order for delivery, and to provide more flexibility for liquor delivery services.
Inspectors monitored liquor licensed establishments (e.g. bars and restaurants) to reinforce the state of emergency, and continue taking measures to educate and alert local by-law and health authorities for follow-up in any cases they observe non-compliance with the public health measures, including capacity limitations.
To support small cideries, the

AGCO

temporarily removed the requirement for cideries to have five acres of planted fruit in order to qualify for a store at their cidery. This change enabled all licensed manufacturers of cider to sell their products on-site or deliver directly to consumers across Ontario. As of August 17, 16 cideries had retail stores authorized as a result of this measure.
The

AGCO

introduced changes to its licensing and compliance processes to provide automatic authorization to liquor sales licensees who wish to temporarily extend the physical size of their existing licensed patio or to temporarily add a new licensed patio, provided they meet certain criteria, including municipal approval.
Cannabis
The

AGCO

worked with retailers to ensure the orderly roll-out of an emergency order issued by the government that temporarily enabled cannabis retail stores in Ontario to offer delivery and curbside pick-up services.
Several temporary changes were made to the Registrar's Standards for Cannabis Retail Stores to reduce burden on licensees during the emergency period. These changes include:

Revised requirements on the frequency of inventory counts to require full inventory cannabis counts on a monthly basis, rather than weekly.
Changes to regulatory reporting requirements, including the notice time periods associated with organization chart changes and changes to store layout.
Gaming
A communication was sent to all 444 municipalities to help them understand their options during the pandemic and to make clear the

AGCO

will be providing as much flexibility as possible in the application of charitable licensing terms and conditions (e.g. allowing charities to extend the term of their ticket sales, if desired).
Permitted the acceptance of credit cards, as well as debit cards, for charitable gaming transactions at paper-based bingo facilities on a temporary basis during the pandemic.
Permitted the temporary sale of break open tickets without the imprint of licence and charity information, allowing sales to continue.
The

AGCO

increased flexibility for Bingo Revenue Model licensees by allowing more online and contactless options for operators and consumers.
The Registrar's Standards for Gaming were amended to support a collaborative approach between the

AGCO

, charitable gaming centre operators, casino operators, and the Ontario Lottery and Gaming Corporation (

OLG

) for the safe reopening of gaming sites.
Horse Racing
As of March 17, the Horse Racing Appeal Panel (

HRAP

) has transitioned to electronic hearings from in-person hearings as a contactless alternative.
The

AGCO

worked with government and the

OLG

to allow Ontario Racing to distribute some of the funds typically used for purses to be transferred to racehorse owners to pay trainers and to cover horse care expenses during the closure period.
The

AGCO

issued Industry Notices advising of a number of temporary rules to accommodate the return to racing and ease industry burden while at the same time ensuring welfare for equine and human athletes and other racing participants. 
In addition, the

AGCO

worked with racetrack associations and horsepeople to address the resumption of racing activities such as submitting re-opening plans to the

AGCO

in order to obtain the Registrar's approval as well as a number of physical distancing measures and limiting physical contact.