Get information* about online gambling (igaming) and sport and event betting in Ontario and find support when you need it.
The first of its kind in Canada, Ontario's new internet gaming market will allow people in Ontario to play on world-class gambling sites, with the assurance that those sites are closely monitored for game integrity, player protections and responsible operations.
The Alcohol and Gaming Commission of Ontario (AGCO) has developed strong rules that gambling sites, and sport and event betting sites have to follow to promote responsible gambling, protect vulnerable people, like youth and self-excluded players, and enhance game integrity.
Visit this page for more information on sport and event betting.
---
Are you Playing on a Regulated Site?
LOOK FOR THE LOGO!
Look for the iGaming Ontario logo wherever you play as a sign that you're playing on a site that is being conducted and managed by iGaming Ontario, offers player protections and meets Ontario's high standards for game integrity and responsible gambling.

As of April 4, 2022, online gambling and sport and event betting operators that have completed AGCO's registration process and have a signed operating agreement with iGaming Ontario can begin offering their regulated games and betting platforms to eligible Ontarians of legal age. 
Regulated online gambling is available through the Ontario Lottery and Gaming Corporation (OLG) at OLG.ca. The OLG will continue to offer internet gaming through OLG.ca after April 4, 2022.
---
Benefits of Playing on a Regulated Site
Playing on a regulated site is the safer choice when betting online in Ontario. Here are some of the benefits of playing on a regulated site, and the risks you could face if you don't. Regulated internet gaming operators and suppliers are responsible for ensuring the following outcomes are achieved, as outlined in the Registrar's Standards for Internet Gaming.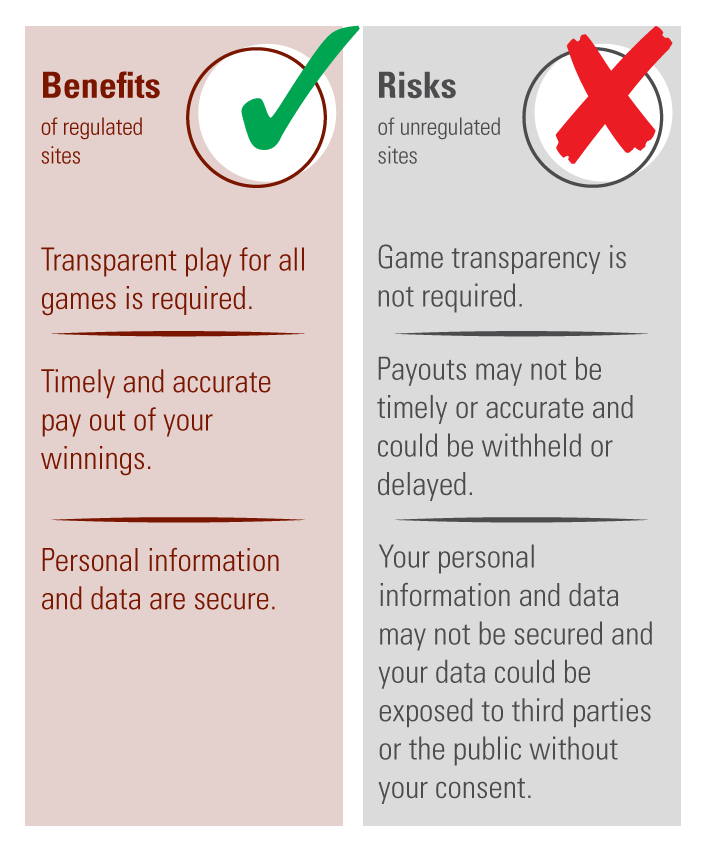 The AGCO's responsible gambling measures also help protect players and vulnerable people including youth and self-excluded players.
Learn more about the benefits of playing on a regulated site.
---
Need Help? Have a Complaint?
Under Ontario's requirements, internet gaming site operators must address player complaints, disputes and inquiries in a fair, timely and appropriate way. 
As such, most complaints and inquiries are handled directly by the online gambling or sports and event betting site.
Contact the site's customer support if you are experiencing problems with your player account or registration, technical issues with the gaming site, or issues related to deposits, payout, withdrawals, bonuses, quality of service or bet cancellations.
If you need assistance with other issues, please click the igaming Complaints and Inquiries button below to answer a few questions to better direct your inquiry. 
You can also view our Frequently Asked Questions for answers to common internet gaming related questions.
---
Responsible Gambling
Responsible gambling is a key priority of the AGCO and central to protecting the interests of Ontarians.
The AGCO has had a long, collaborative partnership with Ontario's responsible gambling community, and actively consulted with them to create an extensive set of standards for operators to identify and assist individuals who may experience harms from gambling.
Regulated sites will be required to prominently display responsible gambling messages and provide links to supports for players, including 24/7 live customer support. Sites must offer financial and time-based limit setting features, as well as opportunities for self-exclusion and breaks in play.
Advertising and marketing requirements are also in place to ensure vulnerable groups, including youth, are not targeted.
Learn more about the Standards and resources for responsible gambling
---
Roles of the
AGCO

and iGaming Ontario

The AGCO registers and regulates online gambling sites and sets standards to protect players while working to ensure game integrity for people across Ontario. The AGCO's Registrar's Standards for Internet Gaming are meant to ensure that player protections, game integrity, responsible gambling safeguards and anti-money laundering protections are in place.

iGaming Ontario is a subsidiary of the AGCO that is conducting and managing the new online gaming market provided through private gaming companies (Operators). 

Established in July 2021 as a subsidiary of the AGCO, iGaming Ontario is working collaboratively with the AGCO and the Government of Ontario to bring the world's best online gambling experiences to the province in a safer environment, helping to protect players and provide more choice. 

Learn more about the different roles of the AGCO and iGaming Ontario

 

*Disclaimer: This information does not revise or the replace the Registrar's Standards for Internet Gaming (the Standards).