The key Human Resources priorities and initiatives supporting the AGCO's People First Strategic goal are:
Diversity, Inclusion
&

Accessibility
The AGCO is committed to addressing head-on and with honesty the concerns and needs of our diverse workforce, increasing equity, including all racialized communities in Canada, Indigenous peoples, members of the LGBTQ2S+ community, persons with disabilities, and women. A review of the AGCO's recruitment revealed our processes could benefit from an additional focus on a DI&A lens to ensure fairness and inclusivity. The AGCO is working on developing sustainable partnerships with a range of community resources to improve the diversity of our candidates' pool. This work is related to having retained KPMG to complete an organizational assessment and develop a DI&A strategy.
Future of Work and Hybrid work model
The Future of Work initiative is identifying a new strategy and implementation plan that will guide the AGCO's work arrangements within a vision for the "next normal." On November 15th, 2021, AGCO launched its new Hybrid Work model. As of the same date the head office and regional offices reopened, following all public health requirements.

The Hybrid Work model supports the needs of employees to balance their work and home lives, while maintaining an engaged, productive workforce. It enables AGCO employees, where operationally feasible, to work from multiple locations, such as from home and other locations within Ontario.  

The AGCO instituted a mandatory COVID-19 vaccination policy that requires all staff, including OPP employees as well as Board members and Horse Racing Appeal Panel members, unless exempt, to be fully vaccinated by November 12th, 2021.
Well-Being Program
Ensuring employee well-being remains a top priority, on September 1st, 2021, AGCO relaunched the Well-being Program (previously known as the AGCO Wellness Program), focusing on total Well-being (i.e., mental, financial, physical, and social health).

The program is designed to provide more focus on awareness and available resources. In addition to that, several enhancements have been made to our benefits plan.
igaming
On July 6th, 2021, the Government of Ontario announced the establishment of iGaming Ontario, a subsidiary of the AGCO, as a separate and distinct legal entity to conduct and manage Ontario's open and competitive iGaming market. At that time, a number of positions were identified that would play a key role in achieving this goal.

Extensive work has been completed to ensure timely and efficient recruitment of a number of vacancies. In particular, a recruitment strategy has been developed. All vacancies were scheduled to be filled based on priority and with the goal of attracting and retaining quality staff.
Leadership Assessment and Development / Succession planning
Earlier in 2021, AGCO launched a new Leadership Assessment and Development program. This multi-step program will identify, assess and develop successors for C-Suite and create a pipeline of future leaders. The AGCO is planning to expand the program beyond executive and director levels to ensure a strong talent pipeline for all key positions in the AGCO.
AGCO

's Compensation Strategy

The AGCO's compensation strategy, including employee benefits, is targeted to the market median of the Broader Public Sector market (comparator group). In the past, the AGCO has participated in annual market surveys to confirm its compensation competitiveness. The AGCO continues to follow the government's direction on compensation, providing what was negotiated in the current Collective Bargaining Agreement. According to government direction, the salary ranges for management have not changed since 2017.

The AGCO is compliant with the Broader Public Sector Executive Compensation Framework. The information about the process and its outcomes is posted on the AGCO website. The AGCO provides a comprehensive benefits package including the following:
100% Employer-Paid Insured Health Benefits.

Defined Benefits Pension Plan administered by Ontario Pension Board or the Ontario Public Service Employees Union (OPSEU) Pension Trust.

Short Term Income Protection to a maximum of six months (130 working days) in the calendar year.
Bargaining Agent
The bargaining unit for the AGCO is OPSEU Local 565, which represents 75% of the AGCO's workforce.
AGCO

Headcount
 

Management

Union

Non-Union

TOTAL

AGCO

Permanent

98

344

31

473

Part-Time Permanent

0

11

0

11

Contract

3

36

7

46

Temporary

0

0

0

0

Seconded from other Ministries

0

0

1

1

AGCO Total

101

391

39

531

Ontario Provincial Police

 

 

 

115

Board of Directors

 

 

 

6

HRAP Members

 

 

 

7
Organizational Chart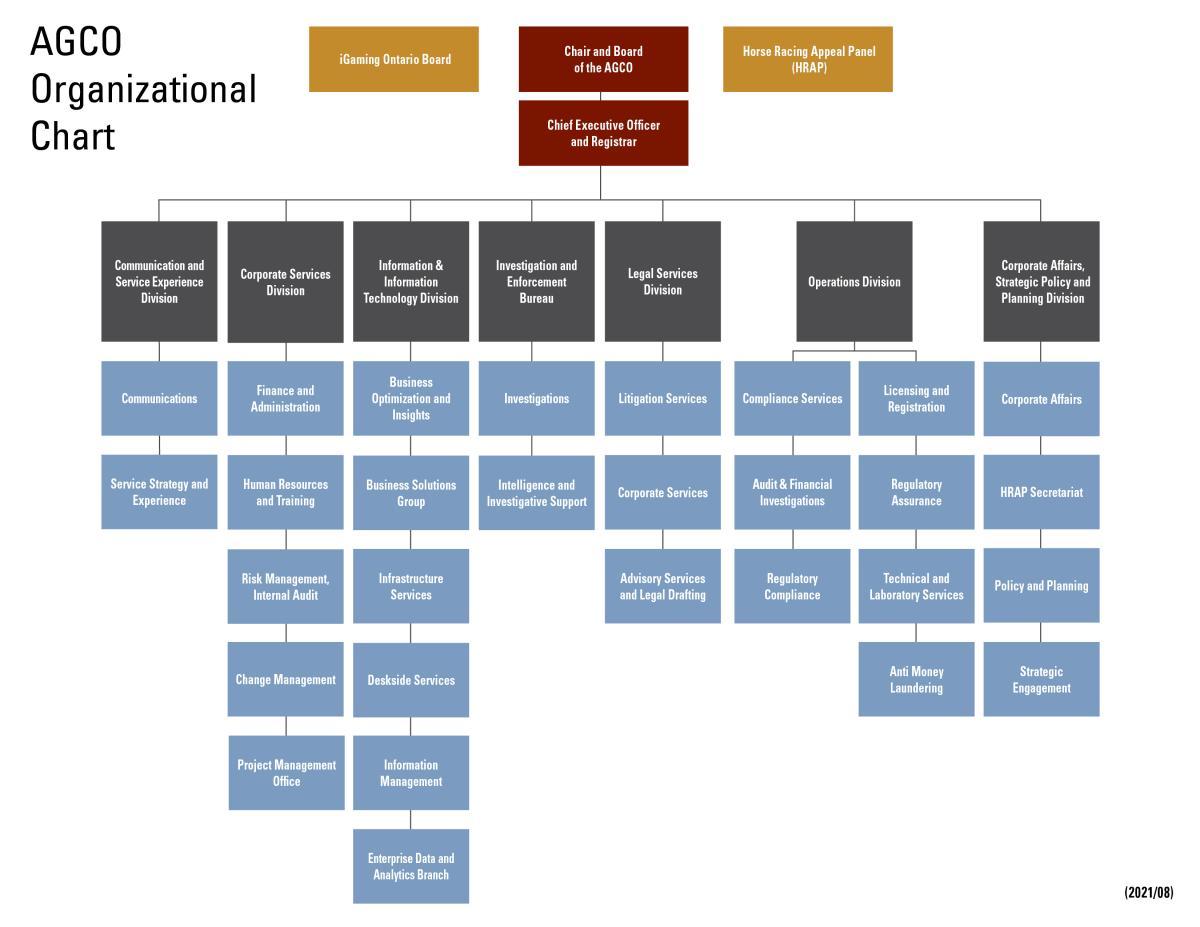 AGCO

ORAGNIZATIONAL

CHART

iGaming Ontario Board

Chair and Board of the

AGCO

Horse Racing Appeal Panel (

HRAP

)
 

Chief Executive Officer and Registrar

 

Communications and Service Experience Division

Corporate Services Division

Information& Information Technology Division

Investigation and Enforcement Bureaus

Legal Services Division

Operations Division

Corporate Affairs, Strategic Policy and Planning Division

Communications
Finance and Administration
Business, Optmization and Insights
Investigations
Litigation Services
Compliance Services
Licensing and Registration
Corporate Affairs
Service Strategy and Experience
Human Resources and Training
Business Solutions Group
Intelligence and Investigative Support
Corporate Services
Audit and Financial Investigations
Regulatory Assurance

HRAP

Secretariat
 
Risk Management, Internal Audit
Infrastructure Services
 
Advisory Services and Legal Drafting
Regulatory Compliance
Technical and Laboratory Services
Policy and Planning
 
Change Management
Deskside Services
 
 
 
Anti Money Laundering
Strategic Engagement
 
Project Management Office
Information Management
 
 
 
 
 
 
 
Enterprize Data and Analytics Branch