The AGCO recognizes that capable and motivated employees are critical to achieving business objectives and increasing capacity to better deliver services. As a result, the AGCO is committed to fostering a work environment where:
Employees believe that their contributions are valued;
Employees are supported by their managers;
Managers are focused on achieving outcomes as opposed to task-based management; and
Creativity and openness in giving and receiving feedback are encouraged.
Strategy and Alignment
The AGCO continues to work on strengthening the skills and abilities of AGCO staff as the agency works through transformation and change. In order to support these initiatives, the AGCO is introducing new processes and building on existing ones. The following are examples of the initiatives underway:
Talent Acquisition: Transforming how the

AGCO

source, recruit and hire talent.
Diversity and Inclusion Plan: Continually monitoring the workplace and identifying new opportunities to promote a diverse and inclusive workplace.
Health

&

Wellness: Moving the

AGCO

's wellness strategy forward and identifying new ways to promote a healthy lifestyle.
Leadership Development: Developing leaders through

AGCO

's coaching program and move towards leaders becoming certified coaches.
Modernize Human Resources: Implementing systems to support performance management and electronic file management.
Supporting

AGCO

Initiatives: Providing strategic human resources supports to leaders and staff to for corporate initiatives.
Total Health Index: Developing and implementing strategies to improve coping and resiliency skills and strengthen leadership effectiveness.
Talent Acquisition
AGCO's workforce demographics are also changing as 86% of the senior executive team and 24.7% of staff across the organization are eligible for retirement in the next five years. Ensuring that the leaders and staff possess the requisite skills through knowledge transfer and succession planning is essential, particularly as AGCO continues its organizational transformation.
In addition to streamlining processes, the AGCO is also undertaking a review of how it sources, recruits, and trains staff, particularly leaders. The AGCO has adopted a new approach to hiring management for organizational fit and is aligned to the Manager 2020 corporate initiative which is focused on developing and recruiting leaders to be people-centric over being process focused. Furthermore, the AGCO is shifting its management culture to focus on placing managers in leadership roles based on their ability to effectively manage people, and not solely based on their technical expertise.
The talent acquisition process has been streamlined and automated through the introduction of a new applicant tracking/talent acquisition software product.  This system provides improved and efficient internal processes and reduced time to screen candidates applying to AGCO vacancies.
Organizational Chart (as of December 20, 2018)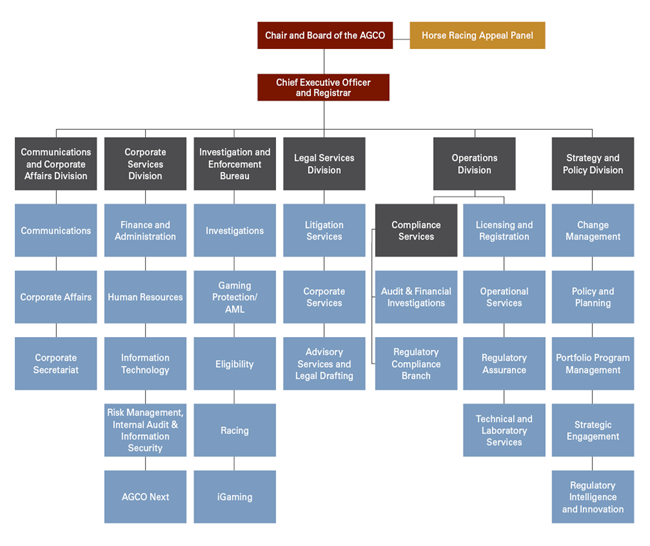 Staff Numbers
The total number of AGCO employees is determined by adding the number of active employees employed as of the end of a month.  Employees on a leave of absence are included in the headcount.  Employees on long-term disability are excluded.  This chart provides a breakdown of headcount by employment status.[1]
AGCO

Headcount[2]
 

Management

Union

Non-Union

TOTAL

AGCO

Permanent:

82

309

26

417

Part-time Permanent:

0

24

2

26

Contract:

5

47

9

61

Temporary:

0

0

3

3

Seconded from other agencies/ministries:

0

0

0

0

AGCO TOTAL

82

380

40

507

OPP

0

0

0

128

OIC (Board of Directors)

0

0

0

5

Horse Racing Appeal Panel Members

0

0

10

10