Strategic planning goals and themes
The AGCO's strategic plan outlines the vision and strategic goals for the organization. The AGCO is currently in the third year of its five-year strategic plan.
The AGCO seeks to achieve its vision of being a world-class regulator that is innovative, proactive, inclusive and socially responsible through its three strategic goals: Modern Regulator, Service Excellence and People First.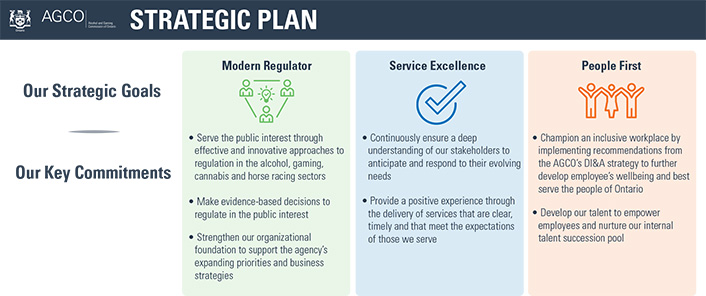 Text version of strategic plan

Our Strategic Goals
Modern Regulator
Service Excellence
People First
Our Key Commitments

Serve the public interest through effective and innovative approaches to regulation in the alcohol, gaming, cannabis and horse racing sectors
Make evidence-based decisions to regulate in the public interest
Strengthen our organizational foundation to support the agency's expanding priorities and business strategies

Continuously ensure a deep understanding of our stakeholders to anticipate and respond to their evolving needs
Provide a positive experience through the delivery of services that are clear, timely and that meet the expectations of those we serve

Champion an inclusive workplace by implementing recommendations from the

AGCO

's

DI&A

strategy to further develop employee's wellbeing and best serve the people of Ontario
Develop our talent to empower employees and nurture our internal talent succession pool
Performance measurement framework
The AGCO measures performance and program effectiveness by setting targets, assessing data and evaluating results. Through continuous evaluation and feedback, the AGCO is able to achieve the key objectives identified in the AGCO strategic plan.
The results from these measures, shown in the table below, demonstrate that the AGCO has met or surpassed the majority of agency targets, largely thanks to:
a continued focus on stakeholder engagement and an enhanced approach to stakeholder education;
a modern regulatory approach that is risk-based, outcomes-based and compliance- focused;
a "Future of Work" model that provides the tools and flexibility for a positive employee experience post-

COVID

;
the development of a strategy to address diversity, inclusion and accessibility at the

AGCO

;
the continuous optimization of iAGCO.
The AGCO is committed to further developing an agency-wide performance strategy. It has created a Business Optimization and Insights Branch to advance multi-year goal setting, link agency efforts to resource planning and develop a robust performance measurement framework to support transparency, accountability and regulatory effectiveness.